Full 2014 list
here
. Hit my target. Well off my century in 2012.
Books That Changed The World
In "Books that Changed the World" Andrew Taylor sets himself the challenging task of choosing and profiling the fifty most important and influential books in the history of the world. He has selected books from every field of human creativity and intellectual endeavour - from poetry to politics, from fiction to philosophy, from theology to anthropology, and from economics to physics - to create a rounded and satisfying picture of how 50 towering achievements of the human intellect have built our societies, shaped our values, enhanced our understanding of the nature of the world, enabled technological advancements, and reflected our concerns and dilemmas, strengths and failings. In a series of engaging and lively essays, Andrew Taylor sets each work and its author firmly in historical context, summarizes the content of the work in question, and explores its wider influence and legacy. A fascinating and richly informative read, and a clarion call to delve deeper into the library of great books, "Books that Changed the World" is a thought-provoking and stimulating read, and the likely cause of many an impassioned debate.
Note:
And one that didn't. Short overview of the contents of each, with an even shorter analysis of how each changed the world. The Bible? OK. Catcher in the Rye? Um...


Check the Technique: Liner Notes for Hip-Hop Junkies
A Tribe Called Quest • Beastie Boys • De La Soul • Eric B. & Rakim • The Fugees • KRS-One • Pete Rock & CL Smooth • Public Enemy • The Roots • Run-DMC • Wu-Tang Clan • and twenty-five more hip-hop immortals
It's a sad fact: hip-hop album liners have always been reduced to a list of producer and sample credits, a publicity photo or two, and some hastily composed shout-outs. That's a damn shame, because few outside the game know about the true creative forces behind influential masterpieces like PE's It Takes a Nation of Millions. . ., De La's 3 Feet High and Rising, and Wu-Tang's Enter the Wu-Tang (36 Chambers). A longtime scribe for the hip-hop nation, Brian Coleman fills this void, and delivers a thrilling, knockout oral history of the albums that define this dynamic and iconoclastic art form.
The format: One chapter, one artist, one album, blow-by-blow and track-by-track, delivered straight from the original sources. Performers, producers, DJs, and b-boys–including Big Daddy Kane, Muggs and B-Real, Biz Markie, RZA, Ice-T, and Wyclef–step to the mic to talk about the influences, environment, equipment, samples, beats, beefs, and surprises that went into making each classic record. Studio craft and street smarts, sonic inspiration and skate ramps, triumph, tragedy, and take-out food–all played their part in creating these essential albums of the hip-hop canon.
Insightful, raucous, and addictive,
Check the Technique
transports you back to hip-hop's golden age with the greatest artists of the '80s and '90s. This is the book that belongs on the stacks next to your wax.
Note:
Disappointing, and not because of the author's aim, or the albums covered (though there is room for argument. This is music I love, but the essays are too short, and I didn't learn much about anyone or anything.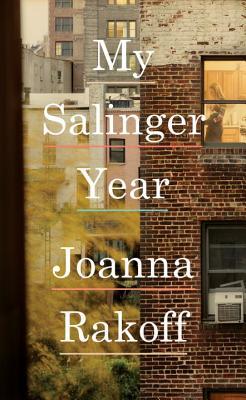 My Salinger Year
Poignant, keenly observed, and irresistibly funny: a memoir about literary New York in the late nineties, a pre-digital world on the cusp of vanishing, where a young woman finds herself entangled with one of the last great figures of the century.

At twenty-three, after leaving graduate school to pursue her dreams of becoming a poet, Joanna Rakoff moves to New York City and takes a job as assistant to the storied literary agent for J. D. Salinger. She spends her days in a plush, wood-paneled office, where Dictaphones and typewriters still reign and old-time agents doze at their desks after martini lunches. At night she goes home to the tiny, threadbare Williamsburg apartment she shares with her socialist boyfriend. Precariously balanced between glamour and poverty, surrounded by titanic personalities, and struggling to trust her own artistic instinct, Rakoff is tasked with answering Salinger's voluminous fan mail. But as she reads the candid, heart-wrenching letters from his readers around the world, she finds herself unable to type out the agency's decades-old form response. Instead, drawn inexorably into the emotional world of Salinger's devotees, she abandons the template and begins writing back. Over the course of the year, she finds her own voice by acting as Salinger's, on her own dangerous and liberating terms.

Rakoff paints a vibrant portrait of a bright, hungry young woman navigating a heady and longed-for world, trying to square romantic aspirations with burgeoning self-awareness, the idea of a life with life itself. Charming and deeply moving, filled with electrifying glimpses of an American literary icon, My Salinger Year is the coming-of-age story of a talented writer. Above all, it is a testament to the universal power of books to shape our lives and awaken our true selves.
Note:
Enjoyed this more than I thought I would. The literary agency is a picture of a bygone era, and the picture of life as a 24 year old in New York is especially poignant. Do I need to read Franny and Zooey again? I thought it was corny a year ago, but maybe I wasn't looking at it correctly.


Listen to This
Alex Ross's award-winning international bestseller,
The Rest Is Noise: Listening to the Twentieth Century
, has become a contemporary classic, establishing Ross
as one of our most popular and acclaimed cultural historians.
Listen to This
, which takes its title from a beloved 2004 essay
in which Ross describes his late-blooming discovery of pop music,
showcases the best of his writing from more than a decade at
The New Yorker
. These pieces, dedicated to classical and popular
artists alike, are at once erudite and lively. In a previously unpublished
essay, Ross brilliantly retells hundreds of years of music
history—from Renaissance dances to Led Zeppelin—through a few
iconic bass lines of celebration and lament. He vibrantly sketches
canonical composers such as Schubert, Verdi, and Brahms; gives
us in-depth interviews with modern pop masters such as Björk
and Radiohead; and introduces us to music students at a Newark
high school and indie-rock hipsters in Beijing.
Whether his subject is Mozart or Bob Dylan, Ross shows how music expresses the full complexity of the human condition. Witty, passionate, and brimming with insight,
Listen to This
teaches us how to listen more closely.
Note:
Good writing, though a little technical at times (at least for me). It hangs together like the desultory collection of essays it is, but I enjoyed reading about Cobain and Brahms in the same context, and I loved the author's discovery of pop after classical.


The Pleasure of Finding Things Out: The Best Short Works of Richard P. Feynman
The Pleasure of Finding Things Out is a magnificent treasury of the best short works of Richard P. Feynman—from interviews and speeches to lectures and printed articles. A sweeping, wide-ranging collection, it presents an intimate and fascinating view of a life in science-a life like no other. From his ruminations on science in our culture to his Nobel Prize acceptance speech, this book will fascinate anyone interested in the world of ideas.
Note:
Better than the other Feynman book I read this year. The essays on science and religion are gems. Always interesting.
How Adam Smith Can Change Your Life: An Unexpected Guide to Human Nature and Happiness
A forgotten book by one of history's greatest thinkers reveals the surprising connections between happiness, virtue, fame, and fortune.

Adam Smith may have become the patron saint of capitalism after he penned his most famous work, The Wealth of Nations. But few people know that when it came to the behavior of individuals—the way we perceive ourselves, the way we treat others, and the decisions we make in pursuit of happiness—the Scottish philosopher had just as much to say. He developed his ideas on human nature in an epic, sprawling work titled The Theory of Moral Sentiments.

Most economists have never read it, and for most of his life, Russ Roberts was no exception. But when he finally picked up the book by the founder of his field, he realized he'd stumbled upon what might be the greatest self-help book that almost no one has read.

In How Adam Smith Can Change Your Life, Roberts examines Smith's forgotten masterpiece, and finds a treasure trove of timeless, practical wisdom. Smith's insights into human nature are just as relevant today as they were three hundred years ago. What does it takes to be truly happy? Should we pursue fame and fortune or the respect of our friends and family? How can we make the world a better place? Smith's unexpected answers, framed within the rich context of current events, literature, history, and pop culture, are at once profound, counter-intuitive, and highly entertaining.

In reinvigorating this neglected classic, this book provides us with an invaluable look at human behavior through the lens of one of history's greatest minds.
Note:
A bit twee, and a little long, for what it is, but a useful summary of a book that, though it is of mild interest, I'm not likely to read.