Thanks to Pat for the recommendation (ATKM) and Scott for the gift (What if?)
All the King's Men
Mo
re than just a classic political novel, Warren's tale of power and corruption in the Depression-era South is a sustained meditation on the unforeseen consequences of every human act, the vexing connectedness of all people and the possibility—it's not much of one—of goodness in a sinful world. Willie Stark, Warren's lightly disguised version of Huey Long, the onetime Louisiana strongman/governor, begins as a genuine tribune of the people and ends as a murderous populist demagogue. Jack Burden is his press agent, who carries out the boss's orders, first without objection, then in the face of his own increasingly troubled conscience. And the politics? For Warren, that's simply the arena most likely to prove that man is a fallen creature. Which it does.
Note
Masterful writing of a great story. Belongs in the pantheon of modern american literature. Cinematic in scope, with a host of colorful and complex characters. Best book I've read in some time.
Afternoon Men
"Afternoon Men" follows the trivial encounters and idle pastimes of the social set through William Atwater. With a glee in upending pretense that rivals the works of Max Beerbohm and Evelyn Waugh, Powell attacks artistic pretension, aristocratic jadedness, and the dark side of the "glamorous" life."Afternoon Men" provides an important perspective on the development of one of this century's great satirists.
Sort of a cross between The Importance of Being Earnest and Waiting for Godot. Clever at times, but not often, and the satire seemed overdone.


What If?: Serious Scientific Answers to Absurd Hypothetical Questions
Randall Munroe left NASA in 2005 to start up his hugely popular site XKCD 'a web comic of romance, sarcasm, math and language' which offers a witty take on the world of science and geeks. It's had over a billion page hits to date. A year ago Munroe set up a new section - What If - where he tackles a series of impossible questions: If your cells suddenly lost the power to divide, how long would you survive? How dangerous is it, really, in a pool in a thunderstorm? If we hooked turbines to people exercising in gyms, how much power could we produce? What if everyone only had one soulmate? From what height would you need to drop a steak to ensure it was cooked by the time it reached the ground? What would happen if the moon went away? This book gathers together the best entries along with lots of new gems. From The Lord of the Rings, Star Trek and the songs of Tim Minchin, through chemistry, geography and physics, Munroe leaves no stone unturned in his quest for knowledge. And his answers are witty and memorable and studded with hilarious cartoons and infographics. Far more than a book for geeks, WHAT IF explains the laws of science in operation in a way that every intelligent reader will enjoy and feel the smarter for having read.
Very fun to read. There is no shortage of weirdness at the edge of science.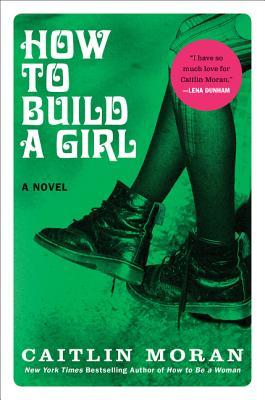 How to Build a Girl
What do you do in your teenage years when you realize what your parents taught you wasn't enough? You must go out and find books and poetry and pop songs and bad heroes—and build yourself.

It's 1990. Johanna Morrigan, fourteen, has shamed herself so badly on local TV that she decides that there's no point in being Johanna anymore and reinvents herself as Dolly Wilde—fast-talking, hard-drinking gothic hero and full-time Lady Sex Adventurer. She will save her poverty-stricken Bohemian family by becoming a writer—like Jo in Little Women, or the Brontës—but without the dying-young bit.

By sixteen, she's smoking cigarettes, getting drunk, and working for a music paper. She's writing pornographic letters to rock stars, having all the kinds of sex with all the kinds of men, and eviscerating bands in reviews of 600 words or less.

But what happens when Johanna realizes she's built Dolly with a fatal flaw? Is a box full of records, a wall full of posters, and a head full of paperbacks enough to build a girl after all?

Imagine The Bell Jar—written by Rizzo from Grease. How to Build a Girlis a funny, poignant, and heartbreakingly evocative story of self-discovery and invention, as only Caitlin Moran could tell it.
Note
Picked this up off the "new and recommended" shelf at the library, hoping for insight into my teenage daughters. Got a cross between Bridget Jones and Matilda instead. Never boring, but a little awkward and vulgar at times.


The Great Game: The Struggle for Empire in Central Asia
Hopkirk's spellbinding account of the great imperial struggle for supremacy in Central Asia has been hailed as essential reading with that era's legacy playing itself out today. The Great Game between Victorian Britain & Tsarist Russia was fought across desolate terrain from the Caucasus to China, over the lonely passes of the Parmirs & Karakorams, in the blazing Kerman & Helmund deserts, & thru the caravan towns of the old Silk Road-both powers scrambling to control access to the riches of India & the East. When play first began, the frontiers of Russia & British India lay 2000 miles apart; by the end, this distance had shrunk to 20 miles at some points. Now, in the vacuum left by the disintegration of the USSR, there's once again talk of Russian soldiers "dipping their toes in the Indian Ocean."
The Washington Post has said that "every story Peter Hopkirk touches is totally engrossing." In this gripping narrative he recounts a breathtaking tale of espionage & treachery thru the actual experiences of its colorful characters. Based on meticulous scholarship & on-the-spot research, this is the history at the core of today's geopolitics.
Sweeping history of a time and region I knew next to nothing about. A little sprawling and matter-of-fact at times. but the personalities, especially the British gentlemen playing at espionage, were captivating.