Year in review coming soon. Travel, family and the Economist Christmas issue made December a slow month for books. I also read Nick Hornby's 31 songs, which turns out to be some kind of repackaging of
Songbook
, so I didn't count it.
Another Fool in the Balkans: In the Footsteps of Rebecca West
In this engrossing and timely book, Tony White explores both South Eastern Europe itself, and the Western European fascination with "the Balkans". Following in the footsteps of Rebecca West--whose engaging and seminal travelogue Black Lamb and Grey Falcon: a journey through Yugoslavia, was published in 1945 and is still considered a masterpiece--in addition to other key contemporary writers and commentators, White paints vivid and revealing pictures of the cultural lives and landscapes in this fascinating region; drawing on the views and ideas he finds there, and extensive interviews with politicians, writers, and artists. The Balkans are often unjustly depicted as a barbarous bridge between Europe and Asia, a territory that just can't help itself. Even sympathetic Western European writers have often "taken sides" in the way they've depicted this astonishing part of the world. White has gone in search of humor and humanity, as well as the historical background to these common misconceptions--though all the while he's conscious that he may well be just another fool in the Balkans.
Note
Picked this up on a whim at a Belgrade bookstore. Disappointing. The writing was a little dull and there was not nearly as much historical context as I had been hoping for.
An international sensation, this hilarious, feel-good novel is narrated by an oddly charming and socially challenged genetics professor on an unusual quest: to find out if he is capable of true love.
Don Tillman, professor of genetics, has never been on a second date. He is a man who can count all his friends on the fingers of one hand, whose lifelong difficulty with social rituals has convinced him that he is simply not wired for romance. So when an acquaintance informs him that he would make a "wonderful" husband, his first reaction is shock. Yet he must concede to the statistical probability that there is someone for everyone, and he embarks upon The Wife Project. In the orderly, evidence-based manner with which he approaches all things, Don sets out to find the perfect partner. She will be punctual and logical—most definitely not a barmaid, a smoker, a drinker, or a late-arriver.
Yet Rosie Jarman is all these things. She is also beguiling, fiery, intelligent—and on a quest of her own. She is looking for her biological father, a search that a certain DNA expert might be able to help her with. Don's Wife Project takes a back burner to the Father Project and an unlikely relationship blooms, forcing the scientifically minded geneticist to confront the spontaneous whirlwind that is Rosie—and the realization that love is not always what looks good on paper.
The Rosie Project
is a moving and hilarious novel for anyone who has ever tenaciously gone after life or love in the face of overwhelming challenges.
Note
A Bill Gates recommendation that I didn't enjoy nearly as much as I thought I would. Didn't buy the characters and didn't laugh much. But I did finish it in a single sitting.
The History of Rock 'n' Roll in Ten Songs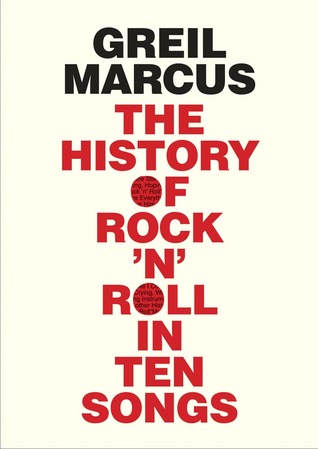 Unlike all previous versions of rock 'n' roll history, this book omits almost every iconic performer and ignores the storied events and turning points that everyone knows. Instead, in a daring stroke, Greil Marcus selects ten songs recorded between 1956 and 2008, then proceeds to dramatize how each embodies rock 'n' roll as a thing in itself, in the story it tells, inhabits, and acts out—a new language, something new under the sun.
"Transmission" by Joy Division. "All I Could Do Was Cry" by Etta James and then Beyoncé. "To Know Him Is to Love Him," first by the Teddy Bears and almost half a century later by Amy Winehouse. In Marcus's hands these and other songs tell the story of the music, which is, at bottom, the story of the desire for freedom in all its unruly and liberating glory. Slipping the constraints of chronology, Marcus braids together past and present, holding up to the light the ways that these striking songs fall through time and circumstance, gaining momentum and meaning, astonishing us by upending our presumptions and prejudices. This book, by a founder of contemporary rock criticism—and its most gifted and incisive practitioner—is destined to become an enduring classic.
Note
I am a sucker for writing about rock, but this one crossed the line, even for me. Too purple about how Ben E. King changed the world at the expense of context and credibility.

The Obstacle Is the Way: The Timeless Art of Turning Trials into Triumph
We are stuck, stymied, frustrated. But it needn't be this way. There is a formula for success that's been followed by the icons of history—from John D. Rockefeller to Amelia Earhart to Ulysses S. Grant to Steve Jobs—a formula that let them turn obstacles into opportunities. Faced with impossible situations, they found the astounding triumphs we all seek.
These men and women were not exceptionally brilliant, lucky, or gifted. Their success came from timeless philosophical principles laid down by a Roman emperor who struggled to articulate a method for excellence in any and all situations.
This book reveals that formula for the first time—and shows us how we can turn our own adversity into advantage.
Note
Quick read, well written, interesting throughout. But nothing new, which is kind of the point, I guess.